14th century representation of Abaelardus and Héloïse

making gang signs at each other, from

a manuscript of the Roman de la Rose
Some 849 years ago this week, Héloïse d'Argenteuil died at the Oratory of the Paraclete, the abbey founded by her husband, Peter Abélard.
Much has been written of their illicit relationship, secret marriage, their son Astrolabus, and the vengeance castration Abélard suffered. Usually the story ends with the couple taking vows of celibacy and parting, with Abélard off to the monastery and Héloïse to a convent. Abélard's tumultuous theological career careened along and Héloïse eventually became abbess of The Oratory of the Paraclete.
If you didn't know better, you'd think that was that: ill-fated romance, love child named for an astronomical computer, brutal genital mutilation, and off to the monastery and nunnery. After all, Abélard himself wrote:
We were joined together, first under the same roof and then in the same heart. Under the pretext of our lessons we abandoned ourselves entirely to love. With our books open before us, we spoke more of love then learning, and we kissed far more than we studied. Each time my hand turned a page, it somehow found its way to her throbbing bosom.
Left at that level, it's high school highjinks the likes of which the worst YA novels are built upon. But as always when I contemplate history, I find myself digging deeper to ponder individual legacies and what tangible artifacts are left us from the past.
Abélard was the preeminent philosopher, logician, and theologian of the twelfth century. He was the teacher of his generation, as well as an accomplished secular and religious poet and musician (though little of that work survives). His rhetorical conflicts with Bernard of Clairvaux over the relationship of faith and reason ended his career, but made him a hero of enlightened thought.
Unfortunately his hapless affair with Héloïse is his lasting legacy, at least in the world of romantic thought.
And Héloïse? Truly a force to be reckoned with, both now as then. She was highly educated and her voice has not been silenced by the passage of a thousand years. Certainly Héloïse was very much a woman of the 1100s, but she was also a woman of passion and genius who exercised her mind in ways that would put contemporary women to shame.
19th century drawing

, Héloïse at her studies.
In 1980, Constant J. Mews discovered letters copied in the 15th century by a monk named Johannes de Vespria. Mews published them as ''The Lost Love Letters of Heloise and Abelard" and the subsequent scholarship prompted a renewed interest in this ill-fated medieval couple and the original cache of their earlier letters. Taken together, the correspondence indicates that theirs was a lasting passion despite the trauma they both experienced. It was a love with superficial roots in physicality but grounded in reason and intellect.
Abélard and

Héloïse, by Eleanor Fortescue Brickdale
I generally shy away from fiction about the couple because it usually idealizes their relationship in cringe-worthy ways, focusing on the titillating scandals of their early tumultuous years. However, author and historian Sharan Newman's Catherine LeVendeur mystery series features post-trauma Abélard and Héloïse. I much prefer reading about them from that perspective. My bias exposed: I'm not a romantic at heart, believing that mature love is more interesting and fulfilling. While I certainly find the couple's more recently discovered early letters to be a delight, their later letters are the real treasures because of the growth and resilience they reveal -- especially Héloïse's.
The couple's post-trauma correspondence begins with Abélard's Historia Calamitatum, written to a friend some twelve years after the great scandal. That document is what his contemporaries would know as a ''letter of consolation'' meant to bring comfort in a "You think YOU have troubles? Let me tell you what trouble is!" sort of way.
And let's face it, nobody knew trouble like Peter Abélard, who recounted his woeful tale of testicle-chopping love in dramatic detail.
Jean Vignaud's Les Amours d'Héloïse et d'Abelard, 1819. Presumably busted in flagrante delicto by Canon Fulbert....
We tell modern kids not to put anything on Facebook or in a text that they wouldn't want passed around. Someone should have told Peter this, too. His letter of consolation somehow fell into Héloïse's hands, and it served not to console but to prompt her to set her husband straight:
Wherein you have not disdained to set forth sundry reasons by which I tried to dissuade you from our marriage, from an ill-starred bed; but were silent as to many, in which I preferred love to wedlock, freedom to a bond.
She also took the opportunity to scold him for his long, seemingly punishing silence of a dozen years:
Tell me one thing only, if you can, why, after our conversion, which you alone did decree, I am fallen into such neglect and oblivion with you that I am neither refreshed by your speech and presence nor comforted by a letter in your absence. Tell me, one thing only, if you can, or let me tell you what I feel, nay what all suspect. Concupiscence joined you to me rather than affection, the ardor of desire rather than love. When therefore what you desired ceased, all that you had exhibited at the same time failed. This, most beloved, is not mine only but the conjecture of all, not peculiar but common, not private but public. Would that it seemed thus to me only, and your love found others to excuse it, by whom my grief might be a little quieted. Would that I could invent reasons by which in excusing you I might cover in some measure my own vileness....Remember, I beseech you, what I have done, and pay heed to what you owe me. While with you I enjoyed carnal pleasures, many were uncertain whether I did so from love or from desire. But now the end shows in what spirit I began. I have forbidden myself all pleasures that I might obey your will. I have reserved nothing for myself, save this, to be now entirely yours. Consider therefore how great is your injustice, if to me who deserve more you pay less, nay nothing at all, especially when it is a small thing that is demanded of you, and right easy for you to perform.
Ouch. Hell hath no fury like a woman scorned.
By re-opening correspondence with her husband, Héloïse wanted her side of the story told: she was no innocent seduced by Abélard. She had wanted him, wanted him bad -- and in fact, she still did. She'd no innate desire for the life she now led, and was merely making the best of things since Abélard had insisted that she enter the convent and he the monastery. Being an abbess was the ultimate position of power and independence for a woman of intelligence and learning and ambition, but it was not a life that Héloïse had sought for herself. She was where she was, out of love for him: "For not with me was my heart, but with thee."
There she was, Abbess Héloïse, cut off from her husband, her only child given over to others to raise. And damn, that bastard who didn't even have the balls to write to her after all they'd been through!
After some back and forth, Heloise realized that she was getting nowhere with her husband with a line of indignant entreaty. Physical and psychological trauma had likely changed this man. Perhaps sensing that she'd struck the wrong note by focusing on their past, Héloïse shifted the tone of the correspondence to intellectual engagement in the present versus emotional harangue and challenging Abélard's emotional revisionism. A smart move, that. Héloïse's letters are a joy to read not simply because of her masterful skill as a writer but because she understood how to communicate and draw out the best in others. The correspondence continued for the rest of their lives, and Abélard visited Héloïse at the Paraclete many times. He composed numerous sermons, hymns, and works of spiritual guidance for the Paraclete.
In her 2005 essay for the New York Times about the couple's relationship, author Cristina Nehring stated that "If Heloise didn't get what she most wanted from Abelard, she got the very best he had to give." I think that is an apt appraisal of their later life together. In the words of that later philosopher Michael Philip Jagger (who maybe never read Abélard's work but who knows a thing or two about love): "You can't always get what you want, but if you try sometimes you just might find you get what you need."
Peter Abélard died in 1142 at the priory of St. Marcel, near Chalon-sur-Saône in Burgundy.
Engraving after a drawing by Alexandre Lenoir, Vue du tombeau d'Abélard à Saint-Marcel
He was supposedly secretly re-buried at the Order of the Paraclete. Héloïse was buried with him some twenty years later following her death circa 1163.
According to the good folks at the Cimitiere du Père-Lachaise, the couple's remains were transferred from the Oratory in the early 19th century and reburied in the crypt on their grounds. One would think they'd find eternal peace of a high profile sort there, but that seems not to have been the case.
Alexandre Lenoir by Jacques Louis David
Fast forward to the late 18th century and we meet one Alexandre Lenoir, a self-taught French archaeologist devoted to saving France's historic monuments from the ravages of the French Revolution -- mostly notably St-Denis and Ste-Geneviéve. This should make him my hero, but it seems that at least in the case of Abélard and Héloïse, Lenoir was more souvenir seeker than caretaker of the past. When our couple was reburied in Père Lachaise, M. Lenoir allegedly removed some of their bones and either sold or distributed them as gifts to museum patrons. According to one source:
A friend of Lenoir's, one M. Lisier of the Ministry of War, received fragments of Héloïse, Abélard...for a privately built tomb; the princess d'Isenburg was given parts of Abélard and Héloïse; a M. Moet collected Abélard's jaw.... Lenoir estimated that Héloïse's teeth were worth at least 1,000 francs each on the open market.
Selling bones and relics for fun and profit is so very...medieval.
According to the Association Culturelle Pierre Abélard in Abélard's hometown of Le Pallet, Brittany, bone fragments alleged to be those of our favorite castrated theologian fell into the hands of Amantine Lucile Aurore Dupin, better known by her pen-name of "George Sand". The Cultural Association was gifted with these fragments in 2006 by Mme Christiane Smeets-Sand, the last surviving descendent of Sand and her lover Manceau Alexandre. The fragments can be found at the museum in Le Pallet...perhaps a little of Abélard came home to Brittany in the end.
Remains of the castle at Le Pallet where Abelard was born in 1079 to a noble Breton family and where Heloise gave birth to their son Astrolabe. To the left are the remains of

the Ste-Anne chapel where it is thought Abelard was baptized. Source:

Association Culturelle Pierre Abélard
While their burial site is disputed and their bones apparently handed out as party favors, a more tantalizing architectural witness to their lives exists in the form of the chapel of St-Aignan in Paris on the Ile de la Cité. The tower of St-Germaine-des-Prés and St-Aignan on 9 Rue des Ursins are the only two buildings still standing from their era, St-Germaine being the older of the two. The building on Rue des Ursins was built by Etienne de Garlande, Abélard's patron and an archbishop of Notre Dame.
When Abbots Suger and Bernard of Claivaux took over as Louis' main advisors, de Garlande lost power and possessions. His house on the Ile de la Cité was pulled down, but this chapel remained. It is believed that it was in St-Aignan that Peter Abélard and Héloïse were married.
You'd never know from the outside alleyway that this Romanesque chapel was inside, supposedly
viewable by appointment.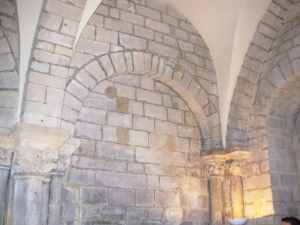 Source: http://www.pierre-abelard.com/itin-Saint%20Aignan.htm
Although the chapel has lost its chancel, two original bays like the one pictured above still survive as well as columns and capitals featuring fleurs-de-lis, lions, acanthus leaves, and creatures: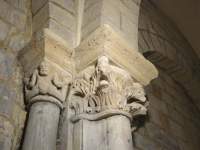 Source: http://www.pierre-abelard.com/itin-Saint%20Aignan.htm
At Notre-Dame, a 14th century Statue of the Virgin and Child was brought from the chapel of St. Aignan in the ancient Cloister of the Canons. It is known as the statue of Notre-Dame de Paris. That would be after the 12th century, of course, but at least it's something I know that I've seen that has a connection with St Aignan's and the story of Héloïse and Abélard, albeit two centuries removed.
If we're lucky, legacies and architectural witnesses survive to connect us to the past. But the correspondence of Héloïse and Abélard represents the best of their best. A cultural pilgrimage to honor this couple would include the medieval streets of the
Île de la Cité in
Paris, St-Aignan's, and Père-Lachaise; then a journey to Le Pallet in Brittany; plus a visit to the ruins of the Benedictine Oratory of Le Paraclet near the town of Ferreux-Quincey.
I've done the Paris bits, but until I manage the rest there are the letters to read, and reread to do them honor. And maybe cheekily name a goldfish Astrolabe...I'm pretty sure that's the medieval equivalent of naming your child iPod, at any rate.
_____________________________________________
Further Reading
Association culturelle Pierre Abélard
Le Pallet, birthplace of Pierre Abelard